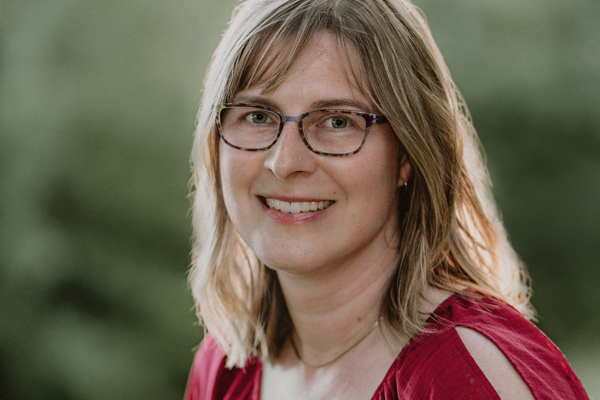 ABOUT ANGELINE SCHELLENBERG
Angeline Schellenberg is the author of the Manitoba Book Award-winning series of linked poems about raising children on the autism spectrum, Tell Them It Was Mozart (Brick Books, 2016) and the elegy collection in honour of her Mennonite grandparents, Fields of Light and Stone (University of Alberta Press, 2020), which was shortlisted for the Kobzar Book Award. Her poetry chapbooks explore resilience (Roads of Stone), colour history (Blue Moon, Red Herring), marriage (Dented Tubas), and the loss of a dear friend to cancer (Irises).

Her poems have also been published in dozens of Canadian literary journals including Grain, Qwerty, Event, and The New Quarterly, and received recognition in Prairie Fire and Arc Poetry Magazine contests. Her micro-fiction has appeared recently in Fewer Than 500, Ekphrastic Flash Fiction, Six Sentences, South Florida Poetry Journal, and The Drabble.
Angeline has performed at festivals, reading series, and launches in Victoria, Vancouver, Abbotsford, Calgary, Edmonton, Saskatoon, Winnipeg, Guelph, Durham, and Halifax. She has served as Deep Bay artist-in-residence at Riding Mountain National Park, Communications professor at Steinbach Bible College, and poetry and fiction mentor through the Manitoba Writers' Guild's Sheldon Oberman Mentorship Program.
Having earned a masters in biblical studies with a major in Hebrew Bible, she is currently studying Ignatian spiritual direction. The Pushcart Prize nominee hosts Speaking Crow https://www.facebook.com/SpeakingCrow, the longest-running poetry open mic series in Winnipeg, Canada. Angeline lives with her husband, two adult children, and two rescue dogs. When she's not writing, she enjoys pottery, photography, reading by the lake, and eating other people's baking.
HER PUBLICATIONS
Poetry Books
Fields of Light and Stone, University of Alberta Press, 2020 https://www.uap.ualberta.ca/titles/974-9781772125115-fields-of-light-and-stone
Tell Them It Was Mozart, Brick Books, 2016
https://www.brickbooks.ca/books/tell-them-it-was-mozart/
Poetry Chapbooks
Irises, Dancing Girl Press, 2019 https://dulcetshop.myshopify.com/products/irises-angeline-schellenberg
Blue Moon, Red Herring, JackPine Press, 2019 https://jackpinepress.com/product/blue-moon-red-herring/
Dented Tubas, Kalamalka Press, 2019
Roads of Stone, Alfred Gustav Press, 2015

AWARDS AND COMPETITIONS WINS
2021 Kobzar Book Award shortlist for Fields of Light and Stone
2019 Arc Poetry Magazine's Poem of the Year shortlist for "Dwelling" https://arcpoetry.ca/2019/08/03/dwelling/
2017 ReLit Award for Poetry finalist for Tell Them It Was Mozart
2016 Lansdowne Prize for Poetry for Tell Them It Was Mozart
2016 Eileen McTavish Sykes Award for Best First Book for Tell Them It Was Mozart
2016 John Hirsch Award for Most Promising Manitoba Writer for Tell Them It Was Mozart