About Linda Flynn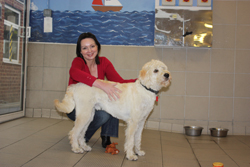 LINDA FLYNN has had two humorous novels published: Hate at First Bite for 7 – 9 year olds and My Dad's a Drag, for teenagers. Both won Best First Chapter in The Writers' Billboard competition.
She has six educational books with the Heinemann Fiction Project. In addition she has written for a number of newspapers and magazines, including theatre reviews and several articles on dogs.
Her short stories with Bridge House include: five adult stories, To Take Flight, in the Going Places anthology, I knew it in the Bath in Something Hidden, Snowdrop in the anthology, Snowflakes, All That Glitters... in the Baubles collection, The Litter in Glitter in the Christmas 17 anthology Gliterary Tales, as well as The Wild Ones, for teenagers in Devils, Demons and Werewolves. Two children's short stories: The Secret Messenger and Timid Tim were included in Hippo-Dee-Doo-Dah which was introduced by Michael Morpurgo with a cover by Andrew Browne and included stories by Lauren St. John and Alan Gibbons.
HER PUBLICATIONS
Hate at First Bite is a story aimed at children between the ages of 5 and 8, but could be enjoyed by people of all ages. It is narrated by Dude, a rescue dog who is proud of his unique intermingling of breeds. He is scared of sticks, but he can't resist shoes, especially sleek, soft shiny ones with looping laces. Dude is happy that his owner, Robin has responded so well to his training. Then Droopy Daisy drapes herself into their lives like a soggy sock, only not nearly as tasty. It doesn't get any better when she introduces her cat with its superior grin, the sort that makes Dude want to chase it up a tree. The cat and dog strike up a shaky alliance which takes them on an adventurous journey. They both need Robin to see through Daisy's simpering smiles in time.
Forget Tinsel Town, this is Sequin Surrey. Sindy Winger's father is a drag queen; he is Don by day, Donna by night. Sindy is determined to keep his frilly, frothy little secret safely in the closet.
When Sindy isn't tuning into the Worry-Vision inside her head, she is tripping over problems at home and at school.
Her life doesn't get any easier when her flirtatious mother returns from Benidorm, wearing a mini-skirt and clutching a wicker donkey.
Then there's Adrian Needles; she would really like him to notice her – but not her family.
All that Glitters… Baubles anthology
Snowdrop Snowflakes anthology
I Knew it in the Bath – Something Hidden anthology
The Secret Messenger and Timid Tim in Hippo-Dee-Doo-Dah anthology
Web site
Linda's website is: www.lindaflynn.com
Find Linda's work here.
In December 2017, Linda will also have Poppy, a Puppy for Remembrance and a satirical short story, Wake-up Call, published in the Best of Café Lit 6 anthology.
Save